How are you doing?
I miss writing to you guys, I have been wearing many hats lately and Travelletters had to take a back seat for a bit. Make una no vex.
Location
I will write about Marrakesh and Essaouira in this newsletter. Marrakesh is the Lagos of Morocco, very metropolitan. The city comes alive at night and if you are not sharp, you will be paying more money for little service.
In 2019, TripAdvisor's community members named Marrakesh the 9th best destination in the world. Marrakesh is a must-see! The city offers a mix of history, tradition, landscapes, tasty food, nice weather and luxury life.
The climate in Marrakesh is subtropical semi-desert, with mild winters and very hot summers. The city enjoys 300 days of sunshine a year, and rainfall is scarce. This city can be visited all year round.
Getting to Marrakesh and getting around
We left Arkchour to Tangier for 70Euros, we used the same taxi guy that took us to Arkchour. There is no direct train from Tangier to Marrakesh, so its Tangier-Casablanca- Marrakesh. The trick is to buy a Marrakesh train ticket from Tangier, it costs about 30Euro. The train lines will be changed at Casablanca and you will be required to enter another train going to Marrakesh. Total train time is 5hrs.
Please always use Google Maps at all times, our Riad (Hotel) from the train station was about 10mins and they were going to charge us 5Euros for it, "Impossicant", who do you think I am. Because I knew the distance, we ended up paying 3Euros. 3Euros was even because Obinna was already tired from the train ride if not, it shouldn't cost more than 2Euros for 10-15mins drive. We also met a very friendly taxi guy that speaks English who corroborated the fact that if you are not sharp, you will end up paying more for less. I have the taxi guy's number if you are ever in Marrakesh.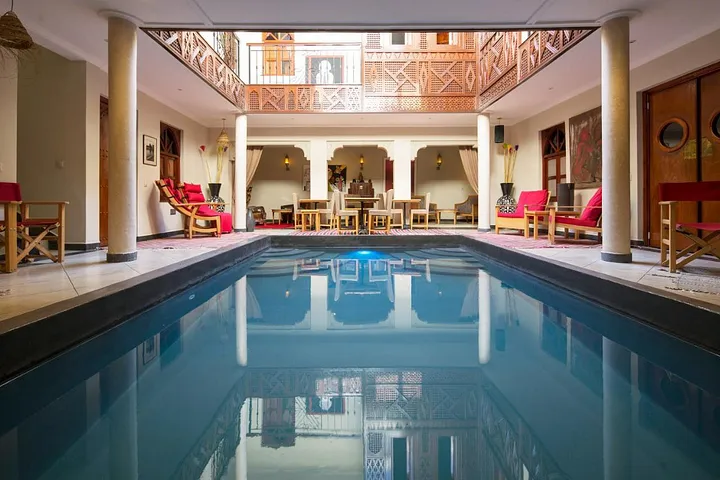 Hotel
We stayed in a Riad in Marrakesh. Riads are traditional hotels or houses with Moroccan architecture. There is always a pool in the center of a Riad. You should definitely stay in a Riad if you are ever in Marrakech. We stayed at a budget friendly Riad that cost about 250USD for three nights. There are other cheaper and more beautiful ones if you check online. Please check out our Riad at Riad Bibazia . The host was really nice but the Riad is all the way inside and it has limited breakfast options. I would not recommend for solo female travellers because of where it is situated.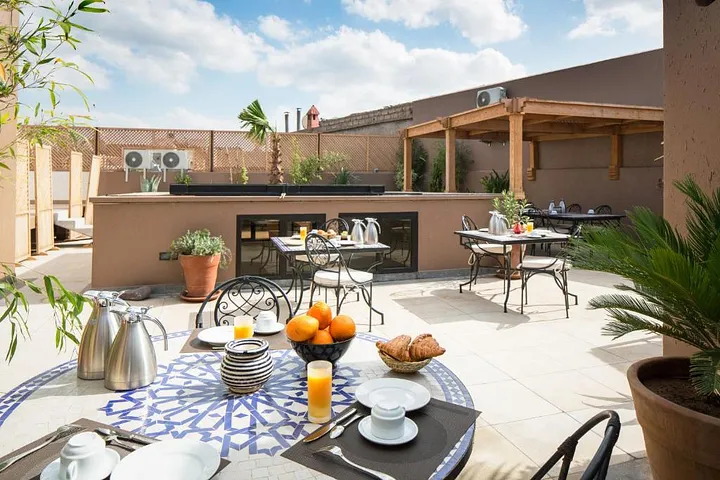 Restaurants
Marrakesh has an amazing cuisine, both affordable and high end restaurants that give value for money. Even the high end restaurants sef, you can eat all you want and the price will not break your back as long as you are not drinking too much wine. Nothing concern me with wine when it is not the wine that Jesus turned at someone's Trad in Cana of Galiliee. Lol
Also, one thing I don't compromise on when we travel is, what we eat or where we go to eat because Obinna eats like he is Chairman, House Committee on Food, Agriculture and Urban Housing. I leave anything fine dinning to Obinna. If you know me in real life, my best dish is Oha soup and fufu, nothing concern me with Lobster and red wine. I digress.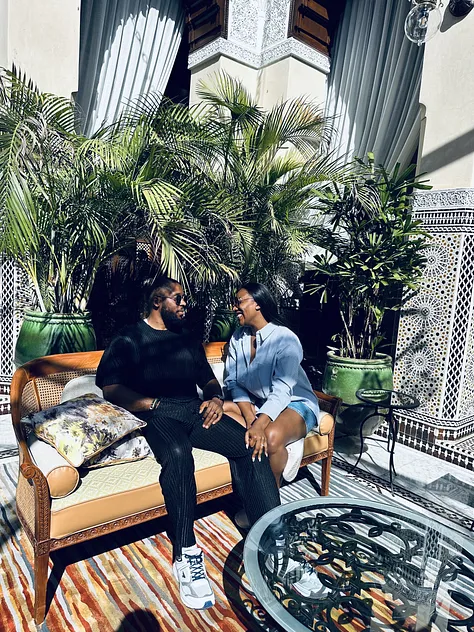 We visited several lovely restaurants in Marrakech, my favourite was La Trattoria Marrakesh. The service and food was impeccable. Jamil was our waiter and he was super amazing. You need to make a reservation before visiting the restaurant. I don't drink alcohol so I ordered like three bottles of Coca Cola, Jamil kept looking at me like "Is this one ordering Coca Cola because its cheap or is she going through something?". I asked him why we didn't have romantic candles on our table like everyone else. He just smiled and looked at me like "You want candle light after drinking Coca Cola, no be your mate dey buy wine". La Trattoria Marrakesh is on Instagram and you can check them out here
Another amazing restaurant was La Mamounia Marrakesh. It is a hotel with different types of restaurants: Italian, French and Moroccan. A buffet at the time cost 85Euros per head. This is the hotel that 'Inventing Anna" ( The Netflix docu-series about the girl that swindled rich people and Corporation in America) was filmed in so it is pretty expensive. As soon as I saw the kind of cars parked there, I just muttered "Problem". (In Kie-Kie's voice)
La Mamounia is a place you visit towards the end of your stay so you don't use your transport money to buy sushi.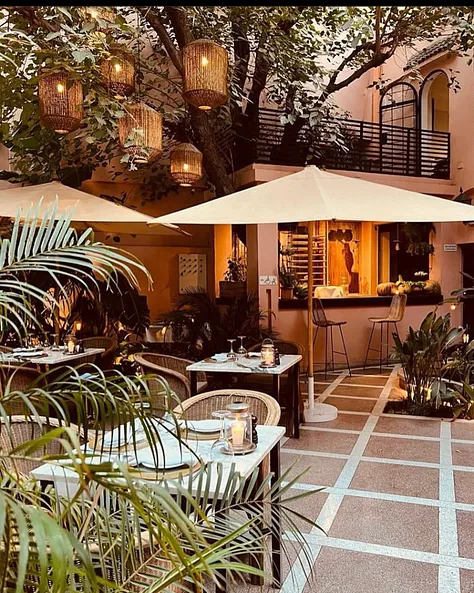 Another beautiful place we visited was Royal Mansour Marrakesh hotel. It's a great place for lunch and relaxation. A room there cost between 1500- 2000USD per night. This place is for Billionaire Ndi ji cash. There is a spa, various kinds of restaurants and recreational activities at the Royal Mansour. You don't need to lodge there to experience the beauty that is this place. They profile you though, so walk in confidently, las las your father is the King of kings and Lord of lords, Amen?
Tours and Activities
Our Marrakesh trip was packed with activities, there was a day we woke up at 5am for hot air ballon ride and didn't get back to the Riad until evening. My itinerary is not for the fainthearted. I didn't pay this amount of money for flight to come and be sleeping. No sir!
We did the hot air ballon ride and it cost 160Euros per head. The package includes hotel pick up and drop off, breakfast and camel ride. We booked with MarrakechbyAir. The experience was really good, our ballon ride had relationship people, every corner is someone looking into another person's eyes and whispering "I don't deserve you babe". Obinna and I were the photographers of the ride, maybe because it looked like we have been married for 20years with 9 children. The hot air ballon package included a camel ride as well, I had wanted to stay on the Camel for just pictures but the tour guide "Fela Durotoyed" me into riding it. Omo!!, the part where the Camel rises or crosses a rough path had me shouting "Buhari!!!". All in all, it was a good experience.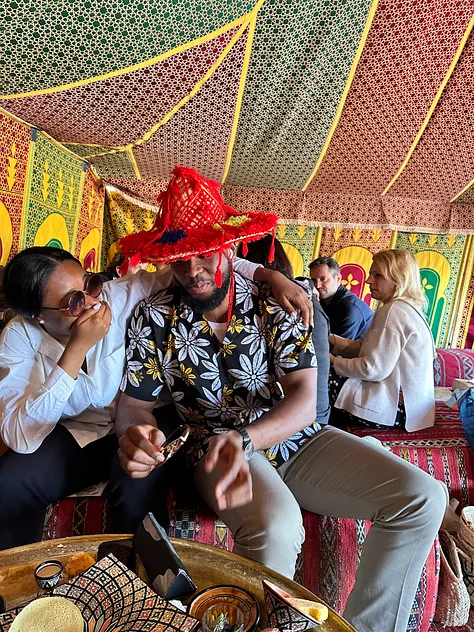 We visited the famous Le Majorelle Garden and YSL Museum and paid 10 Euros per head, I honestly was underwhelmed by it. It's just a garden with blue coloured buildings. My only highlight was seeing Oluchi's runway video at the YSL Museum. OIuchi is a Nigerian ex-supermodel.
If you are a fashion designer or fashion enthusiast, I will recommend you visit the YSL Museum regardless. it is an inspiration for those in that industry, beautiful designs and history. History is not really my thing, mbok
Another exaggerated place was Le Jardin Secret, it's just aesthetically pleasing for Instagram pictures for influencers and nothing else. It cost 8Euros for entrance fee and additional 4Euros if you want to tour the tower in it. You should totally visit though if that's your thing.
I took a day trip to Essaouira for 20Euros. It was a group trip with other foreigners. Essaouira is a beautiful city worth visiting as well. The 20Euros included hotel pick up and drop off. On the way to Essaouira, we stopped and saw goats on trees, the white folks were super intrigued, wahala!. It was a good experience shaaa. I met a British traveler who said he spent 500Pounds for his entire holiday in Morocco.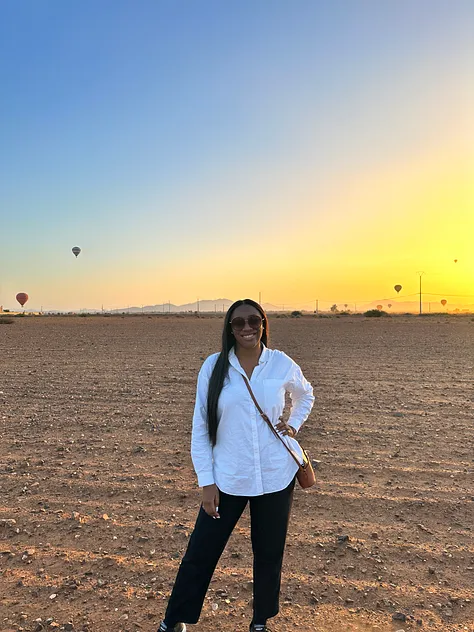 Morocco is indeed the second best country I have visited after Lebanon. This North African country needs to be on your bucket-list for 2023. Its a fusion of everything and definitely worth visiting. Morocco is also super affordable for UK residents, people have messaged me about booking a return ticket for 30pounds from the UK.
Lastly, I have gotten load of questions on how I save for my trip and the truth is, I use the Bitnob App to save in USD and withdraw in Naira. I buy USD with Naira and due to the FX rate fluctuations, I get to make some "interest". For instance the USD I buy today at NGN730 might be NGN780 or NGN800 tomorrow. This provides more money (Naira) for me for my travels. You can download the Bitnob App on Apple/Play Store. Check them out on Instagram here. You can use my referral code (cynthia74) to sign up.
Ps: Payment can be made either in Euros or Moroccan Dirhams. The common languages are French and Arabic.
If you are open to being featured on Travelletters and sharing your travel stories with me, kindly email me via hellomunachi@gmail.com.
Are you visiting Morocco this 2023? Yes or yes, lol.
Until next week,
Love
Muna.